---
NJ Connect for Recovery Family Support Resources
Please note: This is not a complete list of all resources in New Jersey for the substance use disorder community. Please scroll the entire page to see county and state resources. If you have additional resources to suggest please email us at info@mhanj.org.
Resources by County:
Atlantic County
Atlantic County GRASP
Beth Wilkins-Santini
(215) 421-0322
bethsantini@comcast.net
Burlington County
Marlton NJ GRASP Chapter
Chris Weldon
(856) 904-8002
cooper30@aim.com
Camden County
Center for Family Services
108 Somerdale Rd., Vorhees, N
Heather Thomas/Manager Kim Govak
(856) 428-5688
www.centerffs.org
Parent to Parent
101B Tuckerton Rd., Marlton, NJ
(856) 983-3328
www.parent2parentnj.org
All Walks
SUD Family Addiction Support Group,
Affiliated with Liberty Wellness
215 Highland Ave Ste. C, Haddon Twp., NJ, 08108
Tuesdays 7 p.m.
(609) 221-9645
www.libertywellnessnj.com
Cape May County
Cape Regional Recovery Center
1304 Route 47, Ste. W-l, Rio Grande, NJ
(609) 435-6272
SAgger@caperegional.com
Essex County
MHA Essex/ Morris Project F.E.R.S.T.
(Families in Emergency Room Support Team)
South Fullerton Ave., Montclair NJ 07042
Professional support to families with loved one in ER with a Mental Health emergency
(973) 343-9468
www.mhaessexmorris.org
Gloucester County
Deeper Dimensions
SUD Family Support Group
(Affiliated with Ed Brazell, the Silent Epidemic 501c3)
Saint Margaret Church, rear
773 3rd St., Woodbury Heights, NJ
Sundays 7 p.m.
Dana Dariano, MS
(609) 743-2191
www.thesilentepidemic.org
Raproom Parent to Parent
Strength, Hope, Support Family Group
Inspira Medical Center, Room B
508 N. Red Bank Ave., Woodbury, NJ
First and Third Thursdays of the Month, 7 p.m.
(856) 983-3328
P2p@raproom.org
Hudson County
Hudson County GRASP Chapter
Franca Kirsch
(201) 577-8264
kirschfranca5@gmail.com
Alt. Contact Person: Aurora Chiarella
(917) 696-7935
northernlight922@aol.com
Hunterdon County
Sharing the Hope
Internet Show with Family Support Coordinators for SUD
4 Walter E. Florian Blvd., Flemington, NJ
Rocky Schwartz
(908) 782-3909
rschwartz@njprevent.com
Mercer County
Hamilton Township GRASP Chapter
Laurie Latham
(609) 575-5477
LLScot01@msn.com
Middlesex County
Families Against Addiction
Old Bridge Public Library
1 Old Bridge Plaza, Old Bridge, NJ
(732) 981-1022
www.familiesagainstaddiction.org
Monmouth County
Hazlet's Hope Network Family Peer to Peer (FB)
Laura Raimondi O'Hara
(732) 739-7717
www.hazletshopenetwork.site
Parents Coalition for Substance Abuse Awareness (FB group)
Pcaa.nj@gmail.com
Monmouth County NJ GRASP Chapter
Abby Boxman
(908) 692-3072
Monmouthgrasp@gmail.com
Alt Contact Person: Myra Cronin
(732) 710-2943
myrabeth33@aol.com
Morris County
MHA Essex/ Morris Project F.E.R.S.T.
(Families in Emergency Room Support Team)
South Fullerton Ave., Montclair, NJ 07042
Professional support to families with loved one in ER with a Mental Health emergency(973) 343-9468
www.mhaessexmorris.org
Ocean County
RAFTS
67 Atlantic Ave., Manasquan, NJ
(732) 233-7451
www.rafcsnj.org
Hope Sheds Light
253 Chestnut St., Toms River, NJ
(855) 350-2790
info@hopeshedslight.org
Salem County
Salem County GRASP Chapter
Donna Belanger
(856) 678-8659
donnascottb@yahoo.com
Sussex County
The Center for Prevention and Counseling
65 Newton Sparta Rd., Newton, NJ
(973) 940-2966
www.centerforprevention.org
Union County
Prevention Links
121-125 Chestnut Street, Suite 301, Roselle, NJ
Nikki Sumka/Morgan Thompson Director
(732) 381-4100
www.preventionlinks.org
Warren County
Parent to Parent Warren
325 B W. Washington Ave., Washington, NJ
(908) 223-1951
www.parent2parentsc@gmail.com
Kings Crusade Support Group for Addiction (FB group)
8 Hathaway Ct., Martin, NJ 08053
Sue Harrison
(856) 874-4444
wwwkingscrusade.org
Statewide Resources: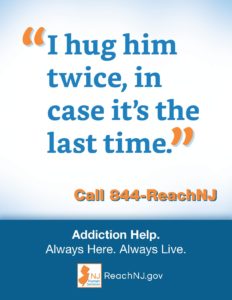 ReachNJ is a 24-hour-a-day, 7 day-a-week addictions hotline where people who have Substance Use Disorder (SUD) or friends and family of people with SUD can get immediate assistance and support from live, New Jersey-based, trained addiction counselors. Click here for more information.
NJ Connect for Recovery Helpline for Family and Friends, 855-652-3737
Click here for NJ Connect for Recovery's Virtual Support Group information.
SPAN
Statewide Parent to Parent (NJP2P)
Parent match with Peer for Support
Education, Resources
Brenda Figueroa
(973) 664-9197
www.spanadvocacy.org
Roots to Addiction
(FB group private group)
Kim Seber
Family Addiction Network
(FB group)
Susan Marco
www.familyaddictionnetwork.org
North Jersey GRASP Chapter
Alexandra Garcia
(201) 927-6658
northjerseygrasp@gmail.com
Pittsgrove GRASP Chapter
Sharon Sparks
sjrr818@comcast.net
Central NJ GRASP Chapter
Debbie Len
(908) 872-1388
centralnjgrasp@gmail.com
Information for Families
Developing a Crisis Plan
Unfortunately for many, relapse is part of the journey to recovery. To best support the individual through their recovery process, families, together with the individual in recovery, need to create a comprehensive plan of action to enact in the event of a crisis situation or if emergency need for treatment arises. Download the free My Crisis Plan Template here.
10 Questions to Ask Substance Use Disorder Treatment Providers
To help individuals and loved ones select a reputable treatment provider, NJ Connect for Recovery provides the following 10 questions to ask potential treatment providers before an individual or loved one enters treatment to ensure the program they are selecting is credible and can provide the right level of care. Click here for the full list.
• Access to Treatment Options through REACHNJ , 844-732-REACHNJ (844-732-2465) – REACHNJ is a hotline where people with substance use disorder can get immediate help and referrals from live, New Jersey based trained addiction counselors, regardless of insurance status. Calls answered live, 24 hours per day, seven days per week.
• Private and Public Insurance Help – We assist callers with navigating private and public health insurance benefits to ensure that treatment is covered and to provide education on best treatment options for you or a loved one.
• Free Family Workshops – Our free NJ Connect Family Education Workshops provide a safe environment for offering education and proven strategies for addressing substance use disorders and recovery with a loved one. Our workshop series includes free Narcan training and kits for all attendees.
• Self-Help Support Groups – We understand that when a loved one is dealing with a substance use disorder, it affects the entire family, which is why we can connect you to free family support groups, spouse support groups and sibling support groups across NJ.