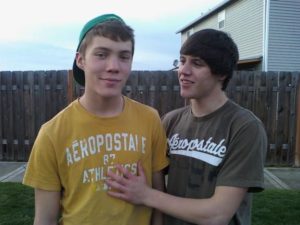 Steven, a straight-A student and talented athlete, was revered among his family and peers. That is, until the tragic loss of his brother changed the course of his life forever.
By: Chanelle Green
Steven was considered the "golden child" in his family. In high school, he juggled wrestling, football and BMX riding all while maintaining a 4.0 grade point average. When he wasn't wrestling or at football practice he was with his younger brother, Cody, whom his mom took in as a foster child. The two were inseparable.
At the tender age of 18, Cody lost his life in a tragic car accident. "Steven took the loss really, really hard," said Michelle, mother of the two boys. "I tried getting him counseling and after one session he refused to go back."
Steven felt odd in therapy; he was grieving, refused to talk and didn't feel as though anyone could help him. He decided to channel his feelings through sports. During his senior year, he dedicated his final wrestling match to his brother and started a fundraiser to honor Cody. Michelle thought that this was his way of coping with his brother's death and that using sports as a platform was a healthy way for him to channel his anger and heartbreak.
During the sports season, Steven started to ask for over-the-counter pain relievers, such as Tylenol, more than usual. Steven would tell Michelle that his back was aching, and he was having trouble sleeping. "At the time, I didn't think much of it. I know it can be hard on the field and figured it was normal." Michelle stated.
Once Steven entered college, his behaviors started to change. Like some teens, he talked to his mom less, asked for money more, and made some "sketchy" new relationships at school. Michelle would visit him at his off-campus apartment and noticed empty alcohol bottles, marijuana paraphernalia and other devices that one would use to smoke. "He would tell me the hookah was for smoking flavored tobacco and that he had the alcohol under control," she explained. "I know students branch out and experiment. I was worried, but figured he was okay and would talk to me if he had any problems."
What Michelle didn't know was that Steven was still treating his back pain. He had moved on to stronger substances: prescription pain relievers Oxycodone (often referred to as "Oxy") and Hydrocodone – both highly addictive opioids that can become deadly when combined with other substances, especially alcohol.
Steven became addicted to the pain relievers. He dropped out of college and got a customer service job with a local cell phone service provider. "I was devastated. He thought he had things all figured out." Michelle said. Because of his addiction, Steven was unable to maintain his job, and things suddenly went from bad to worse. No longer able to support his habit through prescription drugs, Steven turned to a street drug: Heroin.
"At this point, it was hard to get in touch with him. When we spoke, he would mumble. He just wasn't himself. I knew something was wrong." Steven, once an outstanding athlete and straight- A student, became a college drop-out and had several run-ins with the law. He began stealing and was on the streets, getting arrested several times. Officers would call Michelle when he was arrested and would explain what was going on with her son. "I finally got confirmation of his addiction while advocating for him at one of his court appearances. His attorney asked if he had been going to rehab as he had been ordered, and he answered yes." At that point she knew that Steven was battling addiction and needed help.
Desperate and wanting answers, Michelle googled "My son is dying from heroin what to do?" She found NJ Connect for Recovery's telephone number and decided to call. She was immediately connected to Josie, Certified Alcohol and Drug Counselor, Call Center Representative and Peer, and asked if she would be able to utilize the service since she's not from New Jersey. Josie answered "yes".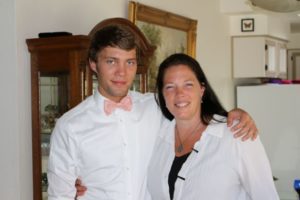 Michelle was relieved. She felt like Josie was comforting and non-judgmental. "I was plagued with shame; I couldn't talk to my mom because she'd accuse me of being a bad mother and I couldn't talk to my boyfriend because he wouldn't really understand." she explained. Josie set up weekly Sunday calls to check on both Michelle and Steven and offer support. "I owe my strength to calls from NJ Connect."
Steven eventually landed in jail, where he detoxed cold-turkey and realized he wanted to turn his life around. Once released, he reconnected with his now wife, started working as a bike salesman,and recently closed on a new home where he lives with their four children. He is currently stable and has been in recovery for 3 years. Michelle's advice: Never say never. "You don't have to live with hidden dark secrets. Call NJ Connect."