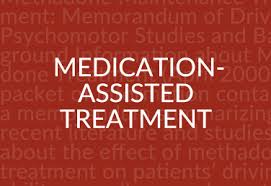 There are many myths associated with
medication assisted treatment (MAT)
Some argue that MAT substitutes
one addiction for another. Others believe
that it is not evidence based and it
increases the risk for overdose in patients.
Let's explore some common questions people have
and why some agencies list MAT as first line treatment.
What is MAT?
According to the Substance Abuse and Mental Health Services Administration,
MAT is the use of FDA approved drugs to treat substance use disorders such
as opioids, smoking or alcohol use. In opioid treatment programs, there are
three types of commonly used medications:
• Methadone is a clinic-based opioid agonist that does not block other
narcotics while preventing withdrawal when taking it. It is dispensed
daily in specialty regulated clinics. Methadone "tricks" the brain into
thinking it's still getting the abused drug; the person does not get high
from it and they feel normal, so withdrawal does not occur. It is the
only drug approved for women who are pregnant or breast feeding in an
opioid treatment program.
• Buprenorphine is an opioid agonist/antagonist that blocks
other narcotics while reducing withdrawal risk. It can be administered
as a daily dissolving tablet, cheek film or 6-month implant under the
skin. It reduces and suppresses cravings for the abused drug. It is
prescribed by a physician during an office visit.
• Naltrexone is a non-addictive opioid antagonist that
blocks the effects of other narcotics and is taken as a daily pill or
monthly injection. Naltrexone blocks the euphoric and sedative effects
of the abused drug and prevents feeling of euphoria if a person
relapses. It is prescribed by a physician during an office visit.
These medications are used to treat opioid dependence for substances such
as heroin, morphine and codeine, as well as semi-synthetic opioids such as
oxycodone and hydrocodone. People may safely take medications used in MAT for months, years or a lifetime.
By using MAT are you substituting one addictive drug for another?
No. When using medication assisted treatment according to doctor's
instructions, the medication will not create or maintain addiction. MAT helps
to reduce cravings and withdrawal, which allows a person to focus on
maintaining a healthy lifestyle. Research indicates that a combination of
medication and behavioral therapies can prove to be effective in treating
substance use disorder and help sustain recovery. In fact, according to the
National Council for Behavioral Health, patients on MAT for at least 1-2 years
have the greatest rates of long-term success. MAT utilizes a multitude of
different medication options that can be tailored to fit the unique needs of a
patient.
Are there any other options for the treatment of Opioid Use?
Yes. There are treatment programs such as outpatient, inpatient and
residential programs. Outpatient programs can range in hours of treatments
while the patient continues to live at home with programs available during
weekends and evenings. Inpatient treatment provides specialty units at
hospitals or medical clinics which offer detox and rehabilitation services.
Residential programs provide treatment in a residential setting and can last for
a month up to a year, depending on the individual's needs. 12-Step/
mutual support programs, such as Narcotics Anonymous (NA), are also
available for support for those with substance use disorders.
Is MAT covered by most insurance plans?
The Affordable Care Act now requires most insurers to cover substance use
treatment benefits. In addition, The Mental Health Parity and Addiction Equity
Act (MHPAEA) of 2008 requires health insurers and group health plans to
provide the same level of benefits for behavioral health services that they do
for primary care. As of May 2013, 31 state Medicaid FFS programs covered
methadone maintenance treatment provided in outpatient programs. State
Medicaid agencies vary as to whether buprenorphine is listed on the Preferred
Drug List, and whether prior authorization is required.
If you have any questions regarding insurance coverage when seeking
substance abuse treatment, call us. Our insurance specialist can answer
questions about private insurance, Medicaid and Medicare coverage. Call 855-
652-3737 for immediate guidance and support.
Source: 1) https://www.samhsa.gov/medication-assistedtreatment
2)https://www.thenationalcouncil.org/mat/
Posted by C.Green