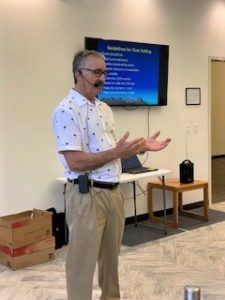 The Mental Health Association in New Jersey, through its New Jersey Connect for Recovery program, hosted a 3-day training on the CRAFT family support model, presented by CRAFT Co-Author Robert J. Meyers, PhD.
CRAFT (Community Reinforcement and Family Training) provides communication tools to help families, who may be unintentionally promoting substance use, replace language and behaviors with positive ways to communicate and solve problems.
The 3-day training took place at Legacy Treatment Facility, which donated the space and other resources for consumer's educational needs. Attendees from various agencies across the state were in attendance, including RWJ Barnabas Health, Rutgers Behavioral Health Care, Prevention Links, and others.
"Our statistics show that over a 6-month period the concerned significant other (CSO) becomes less anxious, less angry, and more engaged with the identified patient. 70% of families who use CRAFT get their loved one into treatment," Dr. Meyer stated.
This method helps teach CSOs important techniques they can use to assist identified patients (IPs). Overall, the approach works by taking the beliefs and values of the identified patient into consideration to develop an appropriate treatment plan. The CRAFT Method can help CSOs by:
Teaching them to modify their usual behaviors, reactions, and expectations toward the IP
Reducing or eliminating current substance use and addictive behaviors in the IP
Helping to motivate the IP to seek treatment
Showing them the importance of self-care as they manage concerns with the IP to maintain or rebuild feelings of happiness
The 3-day training included an in-depth analysis of CRAFT, in addition to several interactive exercises on healthy communication, counseling, the use of positive reinforcement, and engaging a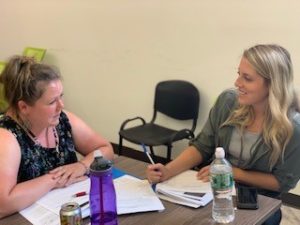 loved one into treatment.
Dr. Meyers commented that this is the first time he has been contracted by a mental health organization (MHANJ) to train on the CRAFT model and is very excited to see its use expanded beyond addiction to both co-occurring and mental illness.
MHANJ COO, Robert Kley stated that he hoped "this initial training of peers, family members and advocates will be the building block to expand the CRAFT model of support to families throughout the behavioral health world."
The Participants are now trained to implement the CRAFT model into their family support groups across the state. MHANJ and NJ Connect for Recovery staff will continue to expand their 12 week series of family education workshops using the CRAFT model. If you are interested in attending a workshop or would like to participate in a facilitator training, email Joanne McCarthy at jmccarthy@mhanj.org