Our Family Education workshops are a series of educational sessions for families who may be dealing with a loved one with a substance use disorder. The workshops implement the CRAFT Method which stands for Community Reinforcement and Family Training. CRAFT provides communication tools to help families, who may be unintentionally promoting substance use, replace language and behaviors with positive ways to communicate and solve problems.
Using CRAFT, facilitators across the state cover a variety of topics over a span of 10- 13 weeks. Classes are typically broken down by topics and can be joined at any time during the 10 to 13-week schedule. Topics include:
Week 1- Introduction/Table of Contents
Week 2-Understanding Reactions & Behaviors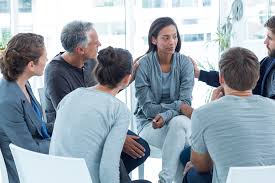 Week 3– Ambivalence / Enabling
Week 4– Communication Goals/Resilience
Week 5- Self Care/Managing Stress & Emotions
Week 6- You're Not Alone/Shame & Self-Compassion
Week 7- Communicating Love
Week 8- Positive Communication/Advocating for Self & Loved Ones
Week 9- Problem Solving/ Family Collaboration
Week 10- Levels of Care/Reinforcement
Week 11- Consequences /Understanding Insurance
Week 12- Crisis Plan/Wrap Up/Resources
Week 13- Narcan Training
"Statistics show that over a 6-month period the concerned significant other (CSO) becomes less anxious, less angry, and more engaged with the identified patient. Over 70% of families who use CRAFT get their loved one into treatment," said Dr. Robert Meyer, developer of CRAFT.
The classes provide effective tools that teach people how to better communicate using a variety of techniques through dialogue and interaction. The CRAFT method reinforces the importance of the family member taking care of themselves, and in turn, helping the substance user. This method encourages positive reinforcement as opposed to using negative feedback, labeling, sarcasm or confrontation with dealing with someone who is coping with substance use disorder.
"I had one woman who completed the workshops and said by the end of it, she was able to better communicate with her son and re-establish a relationship with her grandchildren," said Lynda McDonald, Family Education Workshop Group Facilitator. "We received a lot of positive feedback from families who said it has helped them tremendously."
Overall, the approach works by taking the beliefs and values of the identified patient or "IP" into consideration to develop an appropriate treatment plan. The CRAFT Method can help CSOs by teaching them to modify their usual behaviors, reactions, and expectations toward the IP, producing or eliminating current substance use and addictive behaviors in the IP, helping to motivate the IP to seek treatment and showing them the importance of self-care as they manage concerns with the IP to maintain or rebuild feelings of happiness.
The Family Education Workshops are now being held in several counties including Monmouth, Burlington and Ocean Counties. Interested in joining a workshop? Location information and dates can be found here.