Substance Use Disorder (SUD) recovery can be challenging; it's even more challenging when an individual is coping with co-occurring disorders (COD) – that is, when two or more disorders or illnesses occur in the same person. For many, it is often difficult to distinguish between the symptoms of SUD and mental illness, making it hard for physicians to identify a proper diagnosis and implement effective treatment for an individual. There is still insufficient information about the extent, risk factors, diagnostic criteria and treatment methods for those with SUD and MI, and other barriers such as lack of health insurance, inadequate insurance information, or a refusal of care can stop people from receiving the help they need.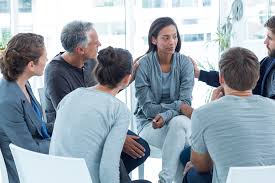 So how do we help fill in the gaps in behavioral health treatment? One way is through peer support and recovery services. A Peer is a person who shares the experience of living with a psychiatric disorder and/or addiction with another. Peer support services offer emotional support, share knowledge, teach skills and provide practical assistance, and connect people with resources, opportunities, communities of support and other people. In fact, studies have found that peers are increasingly viable and can augment the treatment team. Certified Peer Support Specialist can help bridge the gap between levels of care between different behavioral health settings.
In fact, studies show that peers have been able to:
Better engage patients in non-acute and less costly care
Improve one's ability to engage in self-care
Decrease reliance and use of substances
Increase hope, social functioning and overall quality of life
NJ Connect for Recovery offers access to peers through its warmline and Family Education Workshops. The NJ Connect for Recovery warmline is available 7 days a week and is staffed with Certified Alcohol and Drug Counselors (CADC) and trained peers who are experienced in supporting those with substance use disorders or family members dealing with a loved one. Peers working on the call line provide counseling, education and information to assist those who may be finding it difficult to navigate the behavioral health system. Insurance specialists are also available to explain benefits, co-payments, deductibles and co-insurances for in-network and out-of-network treatment providers for both private insurance and Medicaid.
The Family Education workshops are a series of educational sessions for families who may be dealing with a loved one with a substance use disorder. The workshops cover a variety of topics from understanding reactions and behaviors of a loved one with substance use disorder, to managing your stress and advocating for a family member with the disease.
The classes provide effective tools that teach people how to better communicate using positive reinforcement techniques through dialogue and interaction. Classes are typically 12 weeks long and end with a Narcan training and a free Narcan kit to take home in case of an emergency. Workshops are now being held in several counties including Monmouth, Burlington and Ocean Counties. Information on classes and dates are available on the NJ Connect for Recovery website.
Support groups such as the Family Education Workshop, allows people to come together to share similar experiences in a way that is often healthy, and can also aid in patients staying on track with treatment during recovery.
If you or someone you know is coping with a mental health and/or substance use disorder, call us at 855-652-3737. If you are interested in helping, please spread the word. Follow us on Twitter, Facebook, Instagram and LinkedIn for up-to-date information on our programs and community resources available; sign up for our weekly newsletters; visit our website or request information flyers and information that you can share by emailing Cgreen@mhanj.org.
Written By: Chanelle Green